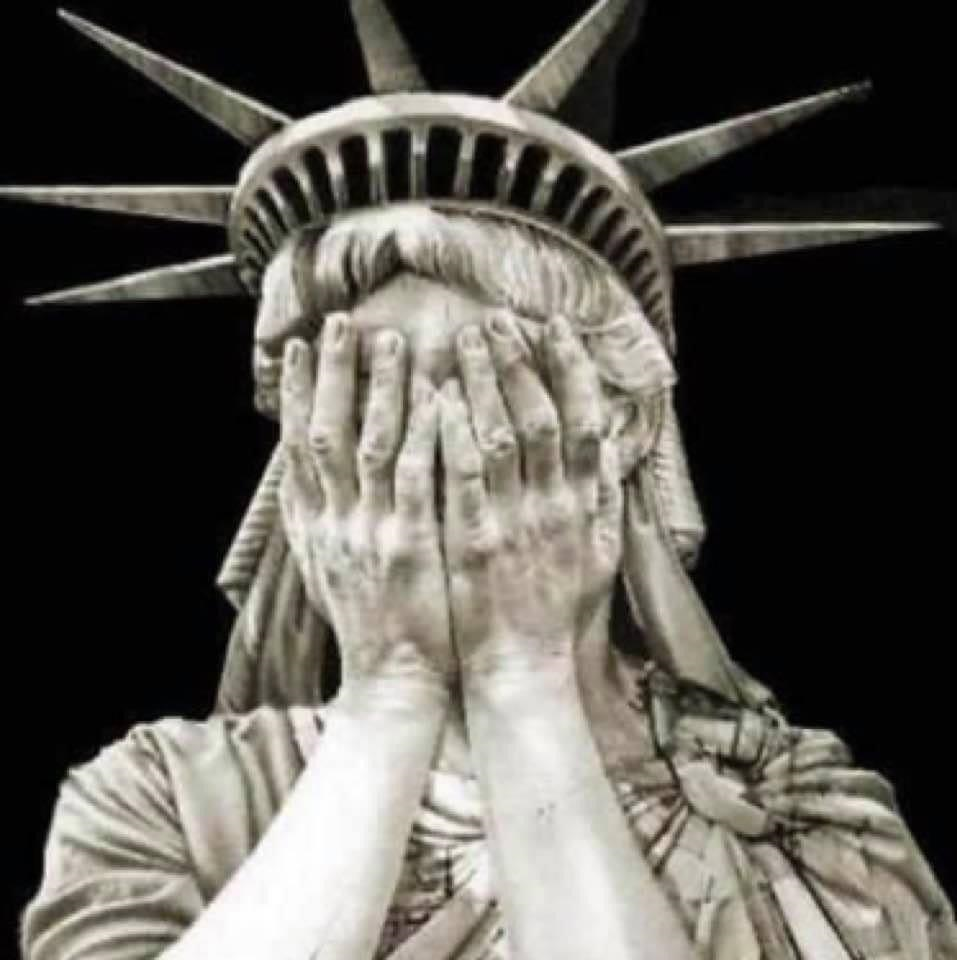 My dear friends who now live in Poland sent me the image above. Both are now infected with and trying to recuperate from COVID-19 but they didn't want my sympathy. They contacted me to say that they felt sorry for us, given recent events in Washington, DC. They didn't send me the original link to the image but it was easy to find. I searched Google for, "Statue of Liberty in shame" and found a hit on the first try.
Well, I can see the actual Statue of Liberty from my terrace. I had to double check to make sure that it hadn't changed. It hadn't but America has.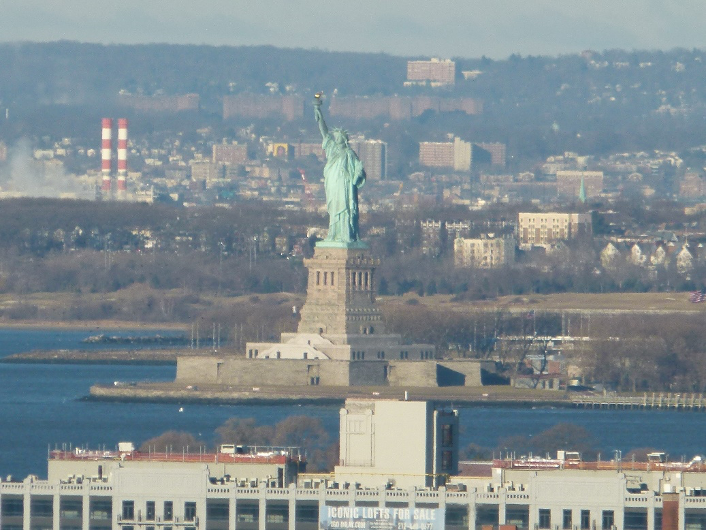 The Statue of Liberty a few hours before I wrote this blog.
Wednesday, January 7th was the last step in Congress' confirmation of the November 3rd presidential election. The congressional approval process is supposed to be a ceremonial event. The American people already decided on a winner and the vote has been certified by all of the states. The only step left is the inauguration of Mr. Biden on January 20th. Yet, Mr. Trump still hasn't admitted that he lost and has instead done everything possible to portray this election as illegitimate. He convinced his core, both in the legislature and on the streets, to take matters into their own hands—to change the verdict and declare him as the winner. On Wednesday, he went so far as to incite a riot at Capitol Hill in Washington, DC.
The police department gave a summary of what happened on Thursday:
Washington, D.C., officials say four people have died, including one in a shooting inside the U.S. Capitol, and more than a dozen police officers were injured after a mob of supporters of President Trump stormed the nation's legislative building, temporarily shutting down a vote to certify his successor's win.

"Thousands of individuals involved in violent riotous actions" stormed the building that houses Congress, the Capitol Police said late Thursday morning, in its first statement about the events. The extremists attacked police "with metal pipes, discharged chemical irritants, and took up other weapons against our officers."
The number of deaths has since risen to five.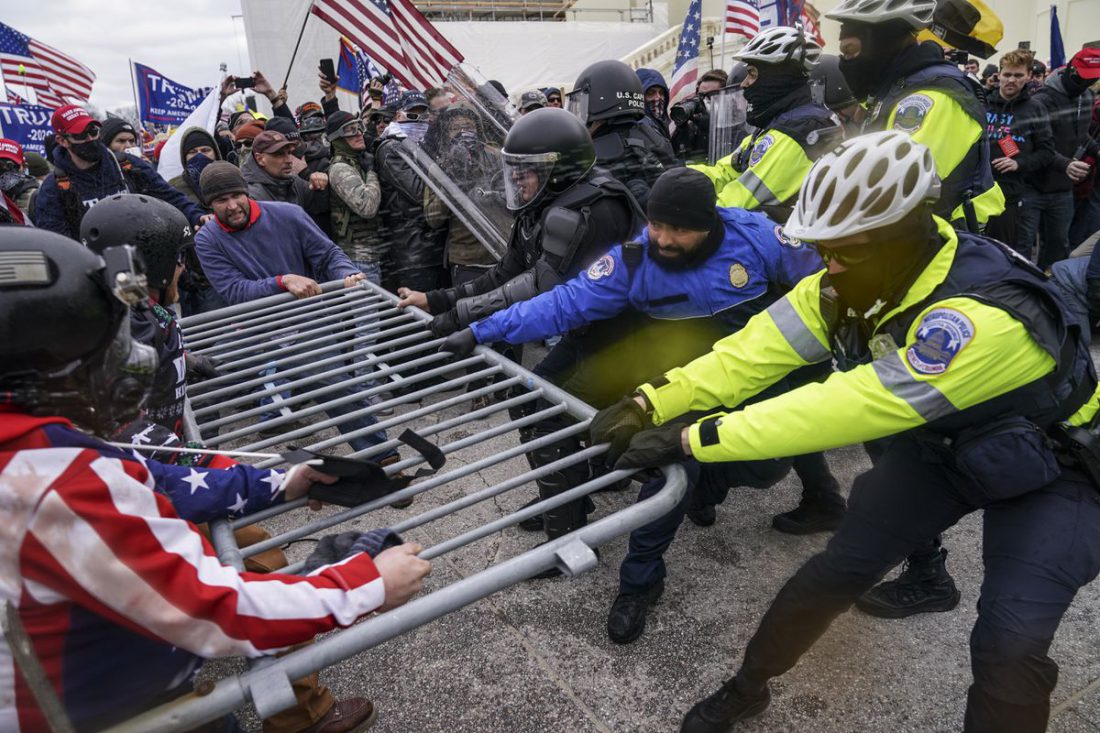 A scene from the riot at the capitol
Senator Mitt Romney, a Republican senator from the state of Utah, had this to say on Wednesday:
We gather today due to a selfish man's injured pride and the outrage of his supporters whom he has deliberately misinformed for the past two months and stirred to action this very morning. What happened here today was an insurrection, incited by the President of the United States. Those who choose to continue to support his dangerous gambit by objecting to the results of a legitimate, democratic election will forever be seen as being complicit in an unprecedented attack against our democracy. They will be remembered for their role in this shameful episode in American history. That will be their legacy.
This was a coup attempt by the president of the United States. The coup interrupted the congressional meeting but congress re-met in the evening to complete the process.
The final results were that the Trump Republican core continued to question the results in Arizona and Pennsylvania. Both houses had to vote on acceptance or rejection of the state's electoral reports. The results were as follows:
Pennsylvania: House: 282 approved, 138 disapproved (total number of Republican votes – 211); Senate: 92 approved, 7 disapproved.
Arizona: House: 303 approved, 121 disapproved; Senate: 93 approved, 6 disapproved
If both houses had disapproved of electoral reports, these states' votes would have been removed from the tally. There were no legitimate reasons to reject the electoral votes. None of the president's claims have any basis in fact.
All of this was so unusual that The New York Times felt compelled to include photographs and names of each of the 147 congressmembers who voted to disapprove the states' tallies. I agree with the NYT on its importance and am reproducing the photographs and the names below:
Senate
Tommy Tuberville, Ala.; Rick Scott, Fla.; Roger Marshall, Kan.; John Kennedy, La.;
Cindy Hyde-Smith, Miss.; Josh Hawley, Mo.; Ted Cruz, Texas; Cynthia Lummis, Wyo.
House
Robert B. Aderholt, Ala.; Mo Brooks, Ala.; Jerry Carl, Ala.; Barry Moore, Ala.; Gary Palmer, Ala.;
Mike Rogers, Ala.; Andy Biggs, Ariz.; Paul Gosar, Ariz.; Debbie Lesko, Ariz.;
David Schweikert, Ariz.; Rick Crawford, Ark.; Ken Calvert, Calif.; Mike Garcia, Calif.;
Darrell Issa, Calif.; Doug LaMalfa, Calif.;  Kevin McCarthy, Calif.; Devin Nunes, Calif.;
Jay Obernolte, Calif.; Lauren Boebert, Colo.; Doug Lamborn, Colo.; Kat Cammack, Fla.
Mario Diaz-Balart, Fla.; Byron Donalds, Fla.; Neal Dunn, Fla.; Scott Franklin, Fla.;
Matt Gaetz, Fla.; Carlos Gimenez, Fla.; Brian Mast, Fla.; Bill Posey, Fla.; John Rutherford, Fla.;
Greg Steube, Fla.; Daniel Webster, Fla.; Rick Allen, Ga.; Earl L. "Buddy" Carter, Ga.;
Andrew Clyde, Ga.; Marjorie Taylor Greene, Ga.; Jody Hice, Ga.; Barry Loudermilk, Ga.;
Russ Fulcher, Idaho; Mike Bost, Ill.; Mary Miller, Ill.; Jim Baird, Ind.; Jim Banks, Ind.;
Greg Pence, Ind.; Jackie Walorski, Ind.; Ron Estes, Kan.; Jacob LaTurner, Kan.;
Tracey Mann, Kan.; Harold Rogers, Ky.; Garret Graves, La.; Clay Higgins, La.; Mike Johnson, La.;
Steve Scalise, La. Andy Harris, Md.; Jack Bergman, Mich.; Lisa McClain, Mich.;
Tim Walberg, Mich.; Michelle Fischbach, Minn.; Jim Hagedorn, Minn.; Michael Guest, Miss.;
Trent Kelly, Miss.; Steven Palazzo, Miss.; Sam Graves, Mo.; Vicky Hartzler, Mo.; Billy Long, Mo.;
Blaine Luetkemeyer, Mo.; Jason Smith, Mo.; Matt Rosendale, Mont.; Dan Bishop, N.C.;
Ted Budd, N.C.; Madison Cawthorn, N.C.; Virginia Foxx, N.C.; Richard Hudson, N.C.;
Gregory F. Murphy, N.C.; David Rouzer, N.C.; Jeff Van Drew, N.J.; Yvette Herrell, N.M.;
Chris Jacobs, N.Y.; Nicole Malliotakis, N.Y.; Elise M. Stefanik, N.Y.; Lee Zeldin, N.Y.;
Adrian Smith, Neb.; Steve Chabot, Ohio; Warren Davidson, Ohio; Bob Gibbs, Ohio;
Bill Johnson, Ohio; Jim Jordan, Ohio; Stephanie Bice, Okla.; Tom Cole, Okla.; Kevin Hern, Okla.;
Frank Lucas, Okla.; Markwayne Mullin, Okla.; Cliff Bentz, Ore.; John Joyce, Pa.; Fred Keller, Pa.;
Mike Kelly, Pa.; Daniel Meuser, Pa.; Scott Perry, Pa.; Guy Reschenthaler, Pa.;
Lloyd Smucker, Pa.; Glenn Thompson, Pa.; Jeff Duncan, S.C.; Ralph Norman, S.C.; Tom Rice, S.C.;
William Timmons, S.C.; Joe Wilson, S.C.; Tim Burchett, Tenn.; Scott DesJarlais, Tenn.;
Chuck Fleischmann, Tenn.; Mark E. Green, Tenn.; Diana Harshbarger, Tenn.;
David Kustoff, Tenn.; John Rose, Tenn.; Jodey Arrington, Texas; Brian Babin, Texas;
Michael C. Burgess, Texas; John R. Carter, Texas; Michael Cloud, Texas; Pat Fallon, Texas;
Louie Gohmert, Texas; Lance Gooden, Texas; Ronny Jackson, Texas; Troy Nehls, Texas;
August Pfluger, Texas; Pete Sessions, Texas; Beth Van Duyne, Texas; Randy Weber, Texas;
Roger Williams, Texas; Ron Wright, Texas; Burgess Owens, Utah; Chris Stewart, Utah;
Ben Cline, Va.; Bob Good, Va.; Morgan Griffith, Va.; Robert J. Wittman, Va.; Carol Miller, W.Va.;
Alexander X. Mooney, W.Va.; Scott Fitzgerald, Wis.; Tom Tiffany, Wis.
Almost everybody who was born in Poland knows the history of the Nazi party. We know how the party of hate and fascism rose to power. My Polish friends and I are not the only ones worried, though. What happened in the US on Wednesday evoked fear worldwide and requires some examination. I will expand on this soon.
Source: http://climatechangefork.blog.brooklyn.edu/2021/01/08/shame-election-riot-mob-capitol/
Hope for the Best, Prepare for the Worst: COVID-19
Last week, I promised to shift my focus to COVID-19's impact on developing countries. So far, most of the media attention has been limited to the coronavirus' impact on richer countries (e.g. US, Europe, Australia, Canada, etc.). The exact definition of "rich" or "developed" differs by source but generally makes up roughly 15% of the population, globally. This leaves 85% of the global population unaccounted for. Given that COVID-19 is a global pandemic, we cannot stop it unless and until we address the ability of developing countries to fight it.
I have decided, however, to momentarily shelve that topic. Many of those wealthy countries are shifting their discussions from fighting the virus' spread (flattening the curve) to mitigating its disastrous effects on the economy.
Countries have adopted social distancing policies, urging or demanding that their citizens stay home, since the virus emerged. China started these measures at the end of January; the US and Europe followed at the beginning of March (my school in NYC closed on March 11th). In the beginning of April, Dr. Deborah Birx, the White House coronavirus response coordinator, revealed the virus' frightening impact in the US. She showed a model predicting the future development of the pandemic in the US, assuming continued social distancing.
Predicting the Future
I discussed her presentation in a previous blog (April 7th, 2020) but I didn't go to any details about the model on which the predictions were based. At that time, we were looking at a possible 100,000-240,000 deaths just in the US. The curve shows the number of deaths per day vs. the expected number of days of the pandemic.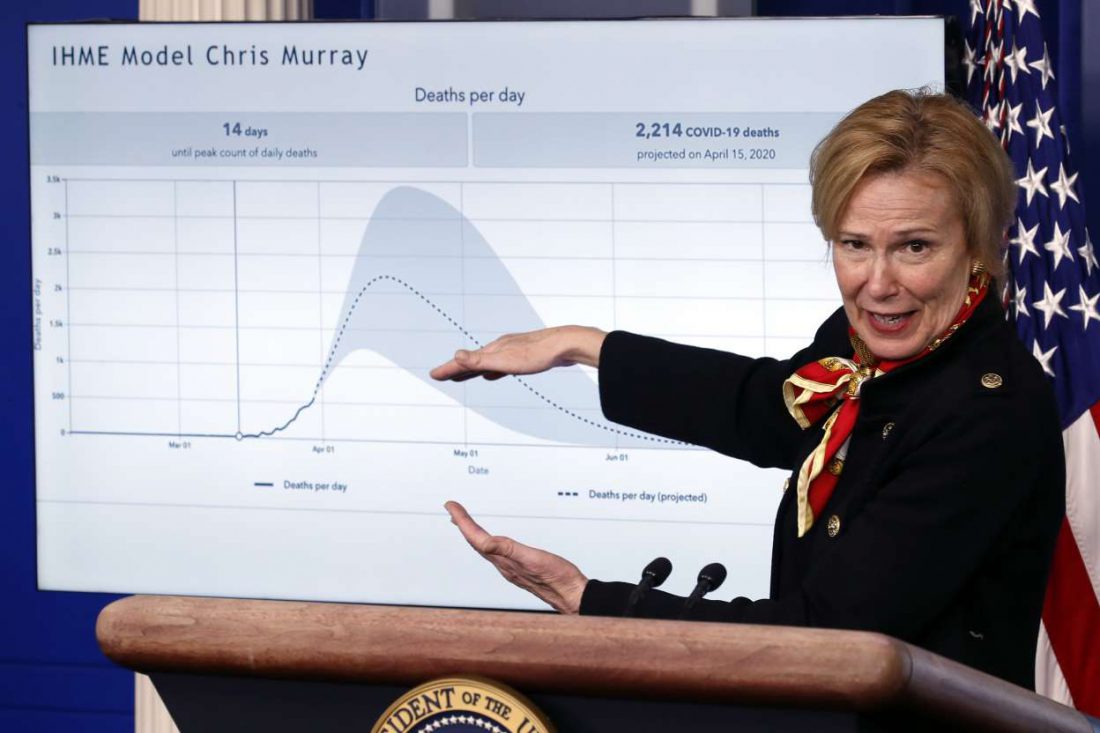 Figure 1 – Dr. Deborah Birx on March 31st
The curve in her chart comes from a model developed by Dr. Chris Murray from the University of Washington. His methodology incorporates almost everything we know about the pandemic. It is updated on an almost daily basis, using public sources.
IHME
The latest report from the Institute for Health Metrics and Evaluation (IMHE) came out on April 21st and included the data shown in Figure 2. It shows the number of deaths in the US starting to stabilize by the end of April, around 60,000.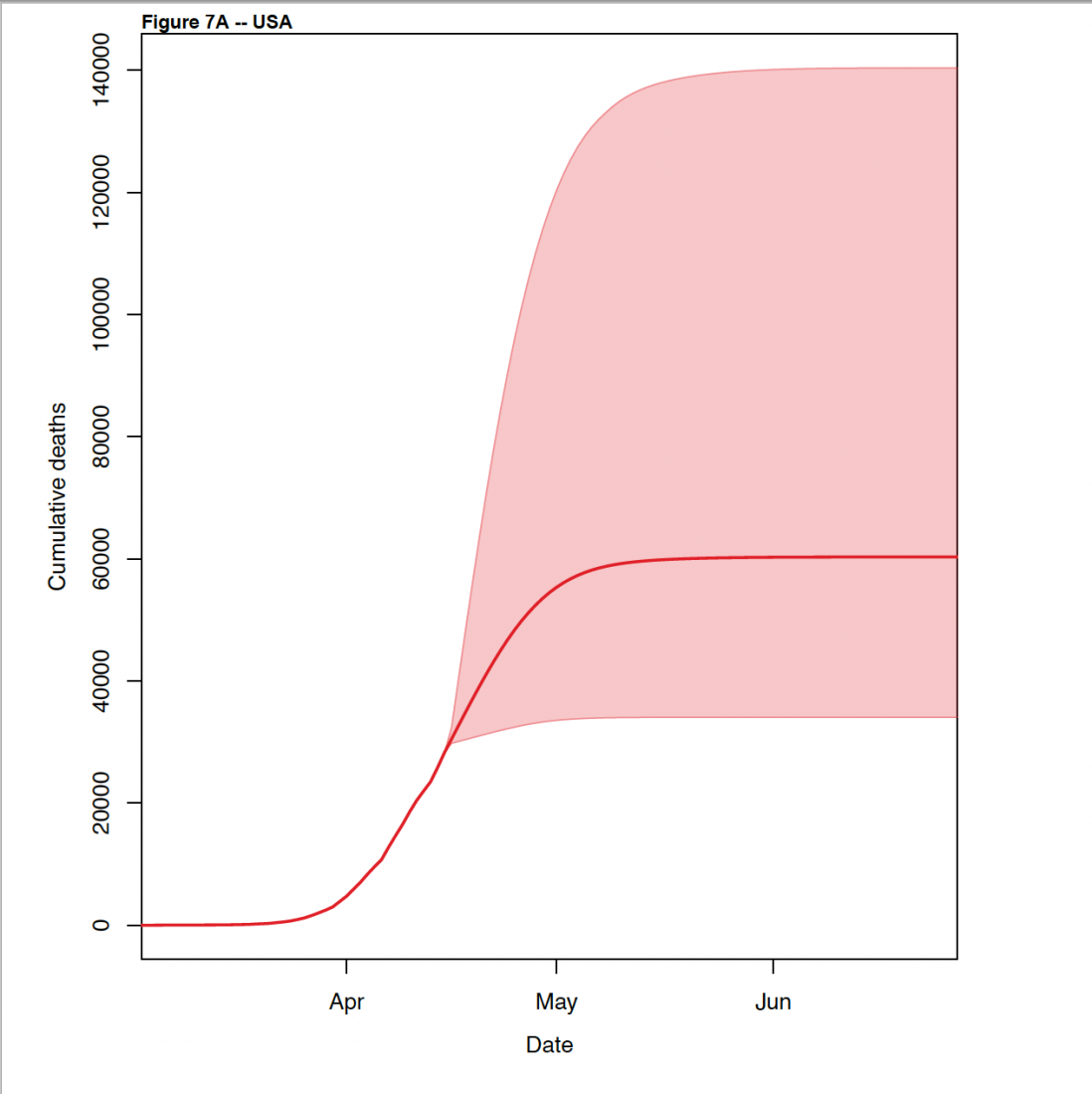 Figure 2 – Total number of deaths in the US, the predicted increases, and the estimates of the uncertainty in these predictions in the recent version of the IHME report.
Summary 

Background: Hospitals need to plan for the surge in demand in each state or region in the United States and the European Economic Area (EEA) due to the COVID-19 pandemic. Planners need forecasts of the most likely trajectory in the coming weeks and will want to plan for the higher values in the range of those forecasts. To date, forecasts of what is most likely to occur in the weeks ahead are not available for states in the USA or for all countries in the EEA.

 Methods: This study used data on confirmed COVID-19 deaths by day from local and national government websites and WHO. Data on hospital capacity and utilization and observed COVID 19 utilization data from select locations were obtained from publicly available sources and direct contributions of data from select local governments. We develop a mixed effects non-linear regression framework to estimate the trajectory of the cumulative and daily death rate as a function of the implementation of social distancing measures, supported by additional evidence from mobile phone data. An extended mixture model was used in data rich settings to capture asymmetric daily death patterns. Health service needs were forecast using a micro-simulation model that estimates hospital admissions, ICU admissions, length of stay, and ventilator need using available data on clinical practices in COVID-19 patients. We assume that those jurisdictions that have not implemented school closures, non-essential business closures, and stay at home orders will do so within twenty-one days.

Findings: Compared to licensed capacity and average annual occupancy rates, excess demand in the USA from COVID-19 at the estimated peak of the epidemic (the end of the second week of April) is predicted to be 9,079 (95% UI 253–61,937) total beds and 9,356 (3,526–29,714) ICU beds. At the peak of the epidemic, ventilator use is predicted to be 16,545 (8,083–41,991). The corresponding numbers for EEA countries are 120,080 (119,183–121,107), 32,291 (32,157– 32,425) and 28,973 (28,868–29,085) at a peak of April 6. The date of peak daily deaths varies from March 30 through May 12 by state in the USA and March 27 through May 4 by country in 31 the EEA. We estimate that through the end of July, there will be 60,308 (34,063–140,381) deaths from COVID-19 in the USA and 143,088 (101,131–253,163) deaths in the EEA. Deaths from COVID-19 are estimated to drop below 0.3 per million between May 4 and June 29 by state in the USA and between May 4 and July 13 by country in the EEA. Timing of the peak need for   hospital resource requirements varies considerably across states in the USA and across regions of Europe.
The IHME models and most other similar models worldwide are not designed as tools for policy makers and/or societies to decide when to start to relax lockdowns. They are meant to predict the capacity that health care systems will need to take care of the infected people. As everybody has seen, especially in hot spots such as New York City, when the flow of serious symptomatic infections exceeds the capacity of the healthcare system to handle these patients, many people die unnecessarily. Sending more people to already overcrowded healthcare facilities in the middle of pandemics is not the way to go. We have to be prepared.
The PDF format of the full report is a must-read. It lays out the methodology in great detail (some high math is involved) and points to the up-to-date global information on which the models are based. As in most predictive models, it includes three elements: past, future, and uncertainty (we can see them clearly in Figures 1 and 2). In Figure 1, the curve starts at the beginning of the impact in the US (18 deaths/day); in Figure 2 the starting point is basically the same. Close to three weeks later (April 20th), the total number of confirmed dead from COVID-19 in the US reached 40,000. From that point we start the prediction stage, including the range of uncertainty associated with these predictions.
Testing Antibodies
In the case of COVID-19, the main source of uncertainty is the global inability to measure the virus' level of penetration. We have made some progress in this area, albeit small. The governor of New York State, Andrew Cuomo, just announced the results of a blood test of 3,000 randomly chosen NYC residents for new coronavirus antibodies. When a person is infected, his/her immune system creates specific antibodies that can fight the infection. Detection of these antibodies is one of the best indicators that a given person was infected with the virus.
The tests indicated 14% of the cases were positive. If we try (as the Governor did very cautiously) to expand this result to the entire population of New York State (about 20 million) and assume that the 3,000 people tested in NYC is a representative sample of the state population, the testing suggests that 14% of 20 million = 2.8 million people were infected. As of four days ago, the state officially reported about 260,000 positive cases, with mortalities close to 16,000 to date. Comparing these results would indicate that only 1 in 10 infected New Yorkers is being confirmed through testing. It would also indicate that the mortality rate of this pandemic in NYS is 0.5%, way below the 3.4% reported earlier by the WHO.
However, by universal admission (including that of Governor Cuomo) the sample of 3,000 from NYC is not representative of the rest of the state. Many of the infections throughout the world, including in NYC, are taking place in hot spots such as nursing homes, low-income neighborhoods, highly concentrated observant religious communities, etc. It will take many more tests to obtain reliable information—thus the uncertainty in the models.
Antibody test in various forms have already been taking place on an experimental basis throughout the world. But the tests are not reliably accurate. The results range from around 5% to 14% positive. There is agreement that such tests have the potential to give a wider view of the degree of infection than direct testing—especially because most of the latter goes to symptomatic cases.
After a Peak (If There Is One)
Nor do we know how exactly the pandemic will decline. It could be a single smooth event as shown directly in Figure 1 and indirectly in Figure 2 (Figure 2 shows cumulative deaths and daily deaths). Or it could—and most likely will—include several waves of infection before it plays out. The only valid "recent" precedent is the Spanish Flu of 1918-1919, which had an estimated fatality of one third of the global population. That pandemic ended after three waves, the middle one being the deadliest.
Let me now move to climate change. The issues are connected because, similarly to the present pandemic, we need to prepare in order to minimize the immense impacts. Preparation needs modeling of the future. We've discussed such modeling of climate change in previous blogs (type carbon intensity in the search box). Figure 3, for example, comes from my July 10, 2018 blog.
Figure 3 – Projected carbon intensity of global temperature increase caused by climate change
The emission of carbon dioxide is a measurable quantity. The impact of the increase in global temperature is shown on the vertical axis. The area between the top line and the bottom line in the figure is an estimate of the uncertainty (as in Figures 1 and 2). In this case, the uncertainty is not caused by the lack of measurements but rather by unpredictable contributions from feedbacks (see again the July 10, 2018 blog). For instance, the enhanced evaporation of water vapor serves as an effective greenhouse gas. One of the important differences between Figure 1 and Figure 3 is that Figure 1 has a maximum, after which the impact decreases until it disappears (not counting possible waves). Figure 3 doesn't have one, at least within a human timescale. Climate change is an even larger existential threat than COVID-19. We can't go backward in time to prevent the coronavirus but it's not too early to minimize anthropogenic climate impacts through changes in the way we live.
Source: http://climatechangefork.blog.brooklyn.edu/2020/04/28/hope-for-the-best-prepare-for-the-worst-covid-19/
Scaling Properties of COVID-19
Saturday was a beautiful spring day. The Brooklyn green market downstairs was open. The street and the market were relatively (in the pandemic era) crowded; well managed social distancing was enforced but many people went without masks. The talk of the town almost everywhere was whether or not to re-open and how to do so.
The Economist invited contributions from a few influential contributors to outline their views on a post-COVID-19 world. Among them was Bill Gates, co-founder of Microsoft and co-director of the Bill and Melinda Gates Foundation. The latter is one of the leading global charities, whose motto is, "All lives have equal value."
He addresses the repercussions of the coronavirus. But the majority of his contribution focuses on his belief that a post-COVID-19 world cannot come about until we can develop effective vaccines and treatments to eradicate the virus everywhere:
WHEN HISTORIANS write the book on the covid-19 pandemic, what we've lived through so far will probably take up only the first third or so. The bulk of the story will be what happens next.

In most of Europe, East Asia and North America the peak of the pandemic will probably have passed by the end of this month. In a few weeks' time, many hope, things will return to the way they were in December. Unfortunately, that won't happen.

I believe that humanity will beat this pandemic, but only when most of the population is vaccinated. Until then, life will not return to normal. Even if governments lift shelter-in-place orders and businesses reopen their doors, humans have a natural aversion to exposing themselves to disease. Airports won't have large crowds. Sports will be played in basically empty stadiums. And the world economy will be depressed because demand will stay low and people will spend more conservatively.

As the pandemic slows in developed nations, it will accelerate in developing ones. Their experience, however, will be worse. In poorer countries, where fewer jobs can be done remotely, distancing measures won't work as well. The virus will spread quickly, and health systems won't be able to care for the infected. Covid-19 overwhelmed cities like New York, but the data suggest that even a single Manhattan hospital has more intensive-care beds than most African countries. Millions could die.

Wealthy nations can help, for example, by making sure critical supplies don't just go to the highest bidder. But people in rich and poor places alike will be safe only once we have an effective medical solution for this virus, which means a vaccine.

Keep it global

I hope wealthy nations include poorer ones in these preparations, especially by devoting more foreign aid to building up their primary health-care systems. Even the most self-interested person—or isolationist government—should agree with this by now. This pandemic has shown us that viruses don't obey border laws and that we are all connected biologically by a network of microscopic germs, whether we like it or not. If a novel virus appears in a poor country, we want its doctors to have the ability to spot it and contain it as soon as possible.
The future, according to Mr. Gates, relies on our ability to eliminate the virus from all countries, regardless of their economic status. So far, we have focused almost exclusively on the richest countries in the world, including the US, Europe, and China (which the World Bank classifies as upper-middle income).
Table 1 lists the number of new coronavirus cases and the resulting deaths in the world's 10 most populous countries. Together, they account for 60% of the global population. I used data compiled from the Johns Hopkins University database on May 1st.
 Table 1 – COVID-19 cases in the most populous countries (May 1, 2020)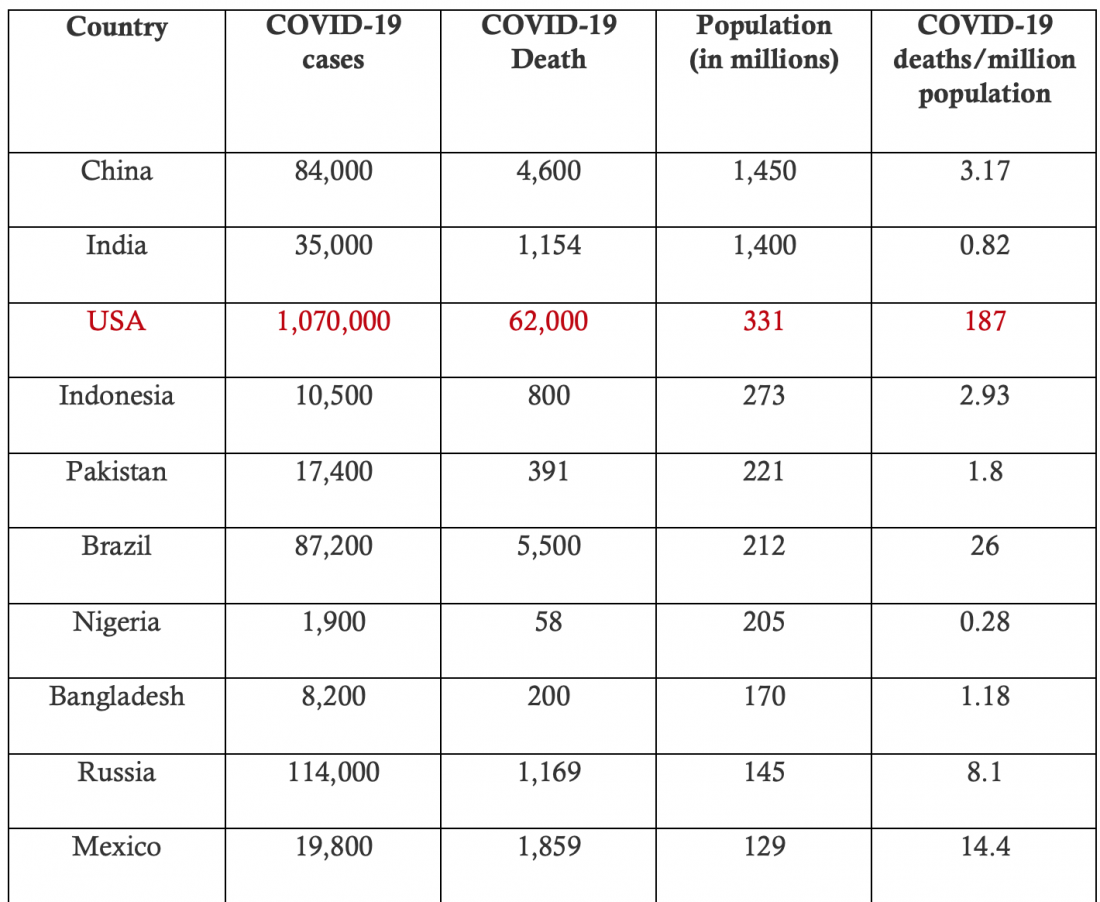 The richest country on this list is the USA. The order of magnitude of difference in density of COVID-19 cases and deaths between the US and the other countries on the list is striking. These differences might result from other location-sensitive causes, but I find that a weak argument. The other major collections of COVID-19 concentrations have been in rich European countries such as Italy, UK, Spain, and France, which are not included in Table 1. Considering that (as I have mentioned in previous blogs) even in the US, the number of cases—and even deaths—are grossly underestimated, we can only conclude that we have no idea what is happening in low- and middle-income countries. Within the US, it was only recently, and in a few states, that COVID-19-related deaths outside of hospitals were included in tallies. Poverty has a direct correlation to weakness in medical infrastructure, so it is unsurprising that other countries have an even harder time estimating casualties. As Mr. Gates has noted, the pandemic cannot be eradicated until it can be dealt with globally.
We can see the scaling of the pandemic everywhere we look. I live in the hottest hot spot in the US: New York City.
Figures 1 and 2 provide the May 1st COVID-19 case distributions in my state:

 Figure 1 – New York State coronavirus numbers, as of May 1st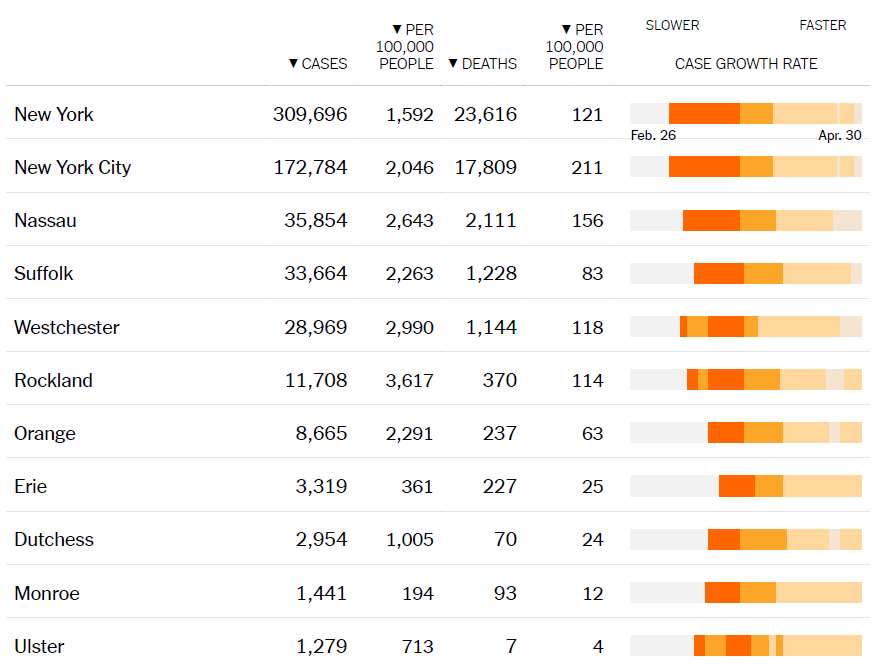 Figure 2 – The distribution of coronavirus cases in New York State (NYS)
The data show that my state, which makes up 6% of the country's population, is "home" to 30% of the cases in the US. Meanwhile, NYC accounts for 55% of the cases in NYS, even though it only makes up 42% of the state's population. We also have data that show the distribution by zip code. From there, one can identify hot spots where people refuse to take social distancing and lockdown measures and/or it is impossible to implement those policies. Of course, essential workers such as the medical community, police, firemen, and crucial online or off-line retail providers (e.g. pharmacies and grocery stores) cannot stay home. Nursing homes are incredibly vulnerable, as are foreign laborers that work in rich countries, homeless people everywhere, and prisoners. Meanwhile, some orthodox religious communities view certain communal activities to be more important than individual safety. By their nature, most of these exceptions to social distancing have much higher concentrations in urban environment than rural ones. Thus, urban hot spots such as NYC, London and Paris attract major headlines for their outbreaks.
Stay safe, everyone, and thanks to those essential workers!
Source: http://climatechangefork.blog.brooklyn.edu/2020/05/05/scaling-properties-of-covid-19/
How Do We End a Pandemic?
When I read my morning paper on May 4th, three articles jumped out at me:
WASHINGTON — As President Trump presses states to reopen their economies, his administration is privately projecting a steady rise in coronavirus infections and deaths over the next several weeks, reaching about 3,000 daily deaths on June 1 — nearly double the current level.

The projections, based on data collected by various agencies, including the Centers for Disease Control and Prevention, and laid out in an internal document obtained Monday by The New York Times, forecast about 200,000 new cases each day by the end of May, up from about 30,000 cases now. There are currently about 1,750 deaths per day, the data shows.
Net hospitalizations for cases of Covid-19, the disease caused by the virus, must either show a continuous 14-day decline or total no more than 15 new hospitalizations a day on average over three days. The latter would probably be a realistic goal only in less populated areas.
14-day decline in virus-related hospital deaths, or fewer than five a day, averaged over three days. New York City and many other parts of the state have reached that benchmark, but Long Island and the Hudson Valley have not.

A three-day rate of new hospitalizations below two per 100,000 residents a day, something that was well beyond the grasp of New York City and its suburbs on Monday.

A hospital-bed vacancy rate of at least 30 percent, which Mr. Cuomo has said is necessary to be prepared for possible new waves of the disease in the future. Most parts of New York have met the threshold, despite more than 9,600 coronavirus patients still being hospitalized.

An availability rate of at least 30 percent for intensive care unit beds; 3,330 people remain in such units, often on ventilators, which are needed in severe cases of the disease.

A weekly average of 30 virus tests per 1,000 residents a month. This category could be the most challenging one to meet in many rural or more remote areas, where testing, and thus positive results, has lagged far behind major cities, like New York, which already is surpassing this goal.

Finally, the governor also wants at least 30 working contact tracers per 100,000 residents as part of a program led by Michael R. Bloomberg, the former New York City mayor, who has given $10.5 million for the effort. Mr. Cuomo has described the initiative as "a monumental undertaking," requiring "an army" of tracers, some of whom will be public employees who have been redeployed.
As the climate continues to warm over the next half-century, up to one-third of the world's population is likely to live in areas that are considered unsuitably hot for humans, scientists said Monday.

Currently fewer than 25 million people live in the world's hottest areas, which are mostly in the Sahara region in Africa with mean annual temperatures above about 84 degrees Fahrenheit, or 29 Celsius. But the researchers said that by 2070 such extreme heat could encompass a much larger part of Africa, as well as parts of India, the Middle East, South America, Southeast Asia and Australia.

With the global population projected to rise to about 10 billion by 2070, that means as many as 3.5 billion people could inhabit those areas. Some of them could migrate to cooler areas, but that would bring economic and societal disruption with it.

The parts of the world that could become unsuitably hot "are precisely the areas that are growing the fastest," said Timothy A. Kohler, an archaeologist at Washington State University and an author of the study, which was published in Proceedings of the National Academy of Sciences.
All three of these articles made me think of the 1918-1919 Spanish flu pandemic. One third of the world population (then below 2 billion) was infected. The flu left about 50 million dead, especially impacting European colonies that have since become independent developing countries. Within the US, about 650,000 people died.
Newspaper image from 1918 about the Spanish flu
The pandemic, which overlapped with the end of WW1, occurred only about one generation (25 years or so) after scientists first discovered viruses.

It is unnerving that—like the Spanish flu—climate change could decimate the world population. Pandemics have an end, though. Once the number of cases reaches a critical level, the virus begins to decline. Climate change is not self-terminating (at least not on a human time scale). With no intervention, Earth will become yet another planet not suitable for life.
The 1918 pandemic reached its peak at one third of the global population (approximately 600 million). Since it struck so soon after the discovery of viruses, we did not have any of the modern-day technologies that we have now. There were no vaccines or medicines; our bodies' immune systems had to produce antibodies with no outside help.
The main tool available at the time was social distancing, which was applied wherever possible. In the current pandemic, the virus spread too quickly for us to use our acquired scientific knowledge to curb it. We are once again relying mostly on social distancing. Now, though, almost the entire world is mobilizing to develop the tools that will limit further the spread of the virus. The goal is to end the pandemic by developing herd immunity. Israel has coordinated one such scientific mobilization.
Meanwhile, Sweden is trying to force herd immunity by closing its borders and limiting its social distancing measures to older citizens. The experiment is still in progress but it is costing a lot of lives. Sweden has the highest number of cases and deaths among the Scandinavian countries.
We still have a way to go before the end of the pandemic. Infectious disease expert Michael Osterholm has said we are only in the 2nd inning of a nine-inning game. Nor is everyone taking the necessary actions. Within the US, the federal government seems more preoccupied with the economy and the November elections than with how to end the pandemic with the minimum number of casualties.
With regards to both climate change and viral pandemics, we must strive for a balance between preserving the economy and preserving life. This should not mean that some people must sacrifice their lives to save the economy.
Source: http://climatechangefork.blog.brooklyn.edu/2020/05/12/how-do-we-end-a-pandemic/